Indulge yourself in a truly memorable shopping experience!
---
Sriya & Daya Curio shop was established in the year 1965. Since then we have been able to achieve tremendous growth to become one of the leading names in the tourist industry in Sri Lanka today.
Our authentic antiques, curios and jewellery have won the hearts of tourists all around the globe. Every single product of Sriya & Daya Curio shop gives ultimate customer satisfaction. We take our high quality products to the customers through our showroom located in Kandy.
Sriya & Daya Curio Shop Kandy Sri Lanka welcomes every visitor to the emerald isle of Sri Lanka to enjoy a unique shopping experience at our showroom and discover a wonderful world of rare and authentic Sri Lankan creations.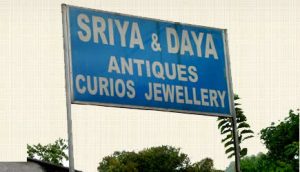 ---
Idulge yourself in atruly memorable shopping experience in Sri Lanka and experience the authentic collection of unique items available at the premier antique shop in Kandy Sri Lanka. Visit us to experience the true Sri Lankan culture.World famous personalities have visited us in the past and complimented us on the vast collection of our products...
---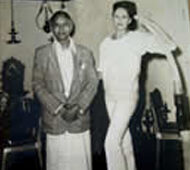 Ursula Andress
Swiss Born Hollywood Actress
Sir Christopher Ondaatje
Famous Author
Murray Abraham
American Actor(Oscar Winning)
---
ɸ. Lieutenant Colonel Mark H. de W. Weldon RA – British Defense Advisor
ɸ. Jacques Villemain – French Ambassador to Sri Lanka
ɸ. P.A. Bertarelli – Managing Director Tamarind tree Hotel Sri Lanka
ɸ. Glen Hodgins – Advisor Political Econimic and Development – Canadian High Commission
ɸ. Guillaume Aymeric – Director General Espana Madrid Spain
ɸ. Roelof T. de Jong – Managing Director Rijsenburgs Reisbureau
ɸ. Matsuoka Takashi – Chief Engineer Nippon Telecommunications Japan
ɸ. Srini Kambhampati Ph.D. – Associate Professor Manhattan
ɸ. Robert Maurer -Lead Urban Sector Specialist – The World Bank India
ɸ. K. Ramakrishna Rao – Former Vice Chancellor Andhra University
ɸ. Sudarshan S. Baily – Technical Evangelist Infosys Technologies
ɸ. Xu Jing Ming – General Vice Manager – Tianjin China Travel service
ɸ. Bruno Viviez – Economic and commercial counselor Ambassade de France a Sri Lanka et aux Maldives